---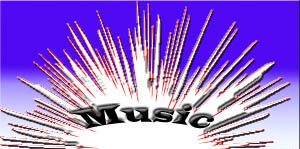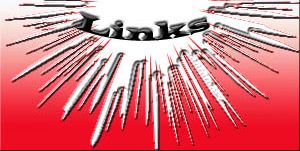 ---
'Hey Jerry ! What say you !?'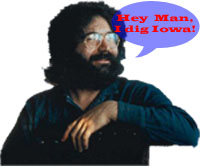 Jerry Garcia digs Iowa, listen why.
---
David Crosby almost cut his hair, it happened just the other day. Just the other day? Nope, it was a long time ago, in the sixties when he proclaimed this in the song he penned, 'Almost Cut My Hair', which was recorded with CSNY.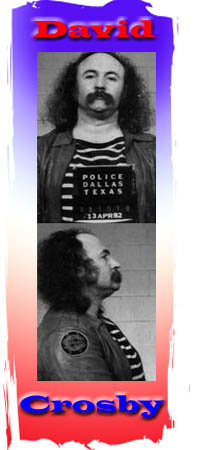 'Almost Cut My Hair'
by David Crosby

Almost cut my hair
Happened just the other day
It's gettin' kind of long
I could've said it was in my way

But I didn't and I wonder why
I feel like letting my freak flag fly
And I feel like I owe it, yeah ... to someone, yeah (etc)

Stop the muisc Mr. Crosby, you're under arrest.......and by the way, it's time for a haircut.
In 1985 David was sentenced to prison after fleeing the drug rehabilitation clinic he'd entered in lieu of serving out a previous jail term stemming from a drug charge conviction. While in prison he got his haircut, kicked his drug habit, and to this day, he continues to perform solo, and with CSN.
---
The Fillmore West
The Fillmore West in San Francisco was a historic music hall operated by famed Rock Impresario, Bill Graham, during The Sixties.
Many 60s Rock Bands reached their point of departure at the Fillmore West. Janis Joplin, The Grateful Dead, The Doors, and Cream were some of the many acts that graced its stage. In addition to rock music, poetry and jazz was also presented giving the venue an eclectic repertoire that catered to the counterculture assembly.
---
Eight Miles High
'Eight miles high and when you touch down You'll find that it's stranger than known..'
-Roger McGuinn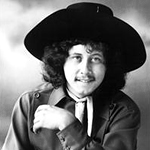 Arlo Guthrie
Day One of the Woodstock Music and Art Fair, circa 1969, Arlo Guthrie takes the stage following 'Melanie'. Arlo plays, 'Coming Into Los Angeles', a righteous tune about a dope smuggler. Following the song, Arlo proceeds to comment on the festival, and how 'far out it is'. Sounds to me like he's '8 Miles High', and that dope dealer he sung about landed at Max Yasgur's farm, not LAX (Los Angeles Airport).Listen to this audio clip from the Sixities, and you be the judge.
60s Factoid: Roger McGuinn insists that 'Eight Miles High' is not about copping a buzz. ô¿ô
---

The Night the Music Died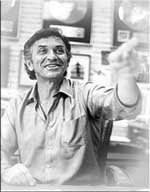 October 25, 1991, legendary rock impresario, Bill Graham, completed some business while attending a Huey Lewis and the News concert near Vallejo, California. The weather was extremely funky that night, windy and rainy conditions prevailed. As he made his exit, and headed to his helicopter, he was stopped by one of the musicians, Mario Cippolina, who appealed to Graham in regards to driving home instead of flying. Heeded advice falls on deaf ears as Grahams helicopter takes off and shortly thereafter, slams into a high voltage tower killing all three aboard. This is the day, some say, the music died.
Wolfgang Grajonca was Bill Graham's real name. Born to a Jewish family in Berlin during the rise of Hitler and The Nazis, Graham would escape the Holocaust as an orphan sent to France, while his mother would eventually die in Auschwitz. When young Wolfgang Grajonca finally made it to the United States, post war animosities were directed at Wolfgang because his name implied that of a German Nazi. This precipitated a name change to Graham, which was chosen out of a phone book. For over a decade, Graham, was a resident of New York until he moved to California in the early 60's. After attending a concert in San Francisco, Graham was inspired to promote rock concerts; the rest they say is history. Operating The Fillmore West(formally the Carousel)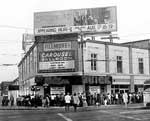 , and Winterland in San Francisco, as well as the Fillmore East in New York he single handedly launched the careers of some of the sixties countercultures most famous artists. Part of Graham's success was not only presenting music, but poetry and other visual arts were part of his catalog. By diversifying his talent presentation, he added to the success of not only himself but of others. Bands of various ethnic mix, as well as newcomers with little reputation added an eclectic menu that was received well by the hipsters of the time. By the time the sixties had come to an end, Bill Graham had established himself as ever present juggernaut in the concert promotion business. His business realm continued to grow until his untimely demise in 1991.
Lastly, 'Bill Graham Presents' lives on at Wolfgang's Vault(click here). Bill Sagan bought the 'Bill Graham Presents' archives, which includes a plethora of concert recordings, as well as concert memorabilia. Wolfgang's Vault provides free streaming audio of concerts performed at Bill Graham events, Sixties Music as well as music from subsequent decades is available to all. In the Sixties, Sixties Music was the best.
---
Free Sixties Music

Hey Deadheads, cop some free music? Cop some free 'Dead Music'? Archive.org, has almost every Grateful Dead concert performed from 1965-1995. The music is presented in 'streaming audio', and many of the concerts are downloadable for free. The free ones are usually 'audience recordings', but you can find some 'soundboard' downloads also. Cool stuff, bored at work, I must have listened to hundreds of versions of 'Me and My Uncle'. The concerts are critiqued by many DH's who lay comment to a particular show. Dudes may write of how they got 'goose bumps' when they listened to the first time 'New Potato Caboose' was performed. But seriously, you can find some cool stuff in these Archives. The GD performance at Woodstock is a good one (click here). About a quarter of the way in to 'Lovelight', some gleef gets on stage, and starts singing nonsense throughout the rest of the song. The weird thing about it is that no one stops him! Also included is a peculiar extended rap by Prankster, Ken Babbs, who tries to keep the audience attentive when techno problems delay the bands attempt to do their thing. There's lots of NRPS ( New Riders of the Purple Sage) stuff there also. So if the head fits, wear it, and boogie to Archive.orgfor your live Dead. Sixties Music was the best.
'Bill Graham Presents' is alive and well at 'Wolfgangs Vault'. Download /Listen to Live Concerts from the Sixties. Lots Vintage Sixties Memorabilia, go take a look see.
---
The Sixties Musical Graveyard
Dead at 27, Janis Lyn Joplin (19th January, 1943 – 4 October 1970). Dead at 27, Jimi Hendrix (November 27, 1942 – September 18, 1970). Dead at 27, James Douglas Morrison (8 December 1943 – 3 July 1971).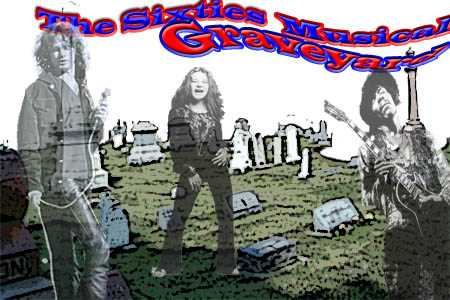 Dope + Drugs = Death. The 'Grim Reaper' goes globe trotting. Janis Joplin overdoses in Los Angeles on Heroin. Evidently, 'The H' was extremely potent, who would've thunk? Jimi Hendrix dies in London. Wine, Sleeping Pills, and a Big Meal. Hendrix takes a snooze then asphyxiates on his own vomit. Morrison croaks in Paris. The jury's out on this one. Some say Heroin, some say he pulled an Elvis, and is living 'incognito'. (can you say, 'Mr. Mojo' rising?)
---
---
(still)Under Construction

Butcher of Baghdad, or Founder of 'Hot Tuna'?
( click on pic for answer )
---
Sixties Music
The Sixties